Typography as a theme

Harry van Kuyk preferred to group his images into 'bundles' sharing a particular atmosphere or theme. His main theme was typography and derived abstract forms, in addition to nudes and landscapes.
These bundles were often produced in monumental books, cassettes or portfolios, generally in limited editions. His contention about art and graphics in particular ('art owes its existence not only to the creative process, but also to its exclusiveness', Van Kuyk stated), made sure that his publications had a bibliophile character. Bundles, editions, or single relief prints were limited to five, ten or sometimes fifty copies. In exceptional cases and dependent on the technique, the issue was bigger (either 100 or 250).
In addition to the numerous autonomous prints

relief print, Untitled (piled rectangles), 1974 2/2
Silkscreen print, Composition in black and white, 1977 8/20, dozens of 'bundles' were released over a period of thirty-five years; for example the internationally famous Groot Abecedarium (Great Abecedarium) (1973) inspired by the alphabet and prefaced by the Amsterdam book historian Prof. dr. G.W. Ovink. Also included in these series are: Aldus Manutius (1971), Variaties op de Sectio Aurea (Variations on the Sectio Aurea) (1972), Tangram (1975), Grafinu

Grafinu, 1976: portfolio, 28 silkscreen prints, text (Wim Wennekes), edition of 250 (1976), Landschap (Landscape) (1980), Cijfers (Figures) (1988), Erografica (1995) and last but not least the impressive Bodoni Initiales (1993).
With his collection of short stories entitled Gisteren. Legaat van vierentwintig uur (Yesterday. A twenty four hour legacy) (1990) and the collection of aphorisms Kunstenaarsgoed (Artist's stuff) (2002) he moved towards books with his own writings as the focal point. Horizontaal. Liefdesbrieven aan een polder (Horizontal. Love letters to a polder) (1999) not only comprised reproductions of his drawn pastels but also a number of his poems.
Between 1965 and 2000, he worked on various monumental pieces of art, often commissioned. Among these are linoleum intarsia's, wood reliefs, huge minimalist mural reliefs

Mural relief, wedding room in City Hall, Zevenaar, 1985 (photo Boucher) and a monument on the theme of education. In these same years he designed posters, logos and related print work for (art) organizations, companies and private persons.


His later years

At the end of the '90s he took a 'holiday' from graphical art and devoted his time to painting the polder landscape close to his home – Ooij, near Nijmegen –, that had always been intertwined with his life. He exchanged laborious and intensive printing for lighter materials such as pencil, pastel and oil paint. He also returned to making nude studies (a theme he had been captivated by as a young artist), which he reduced to basic lines in various techniques. One of the results is the book art collector's edition NOVAnu, published late 2006 in collaboration with the Dutch poet Hans Bouma.
Yet, at times he returned to the form that has been his great contribution to art. His final relief print was created in 2007: Re-Genesis

Re-Genesis, 2007, template and relief print, edition of 40.

He undertook extensive travel of which the months long expedition across the Sahara and Africa (1982-1983) was the most impressive. He was a member of the 'Gemeenschap Beeldende Kunstenaars' (GBK, Community of Visual Artists) in Nijmegen and an artist member of Arti et Amicitiae in Amsterdam. In 2007 he was given a knighthood in the Order of Oranje-Nassau for his achievement in the graphic arts.

Harry van Kuyk died in Nijmegen on 7 May 2008.
2004, Den Bosch, opening of retrospective exhibition in Museum of Prints (photo Ton Hoefnagel)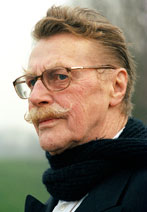 2002, Ooij (photo An Stalpers)